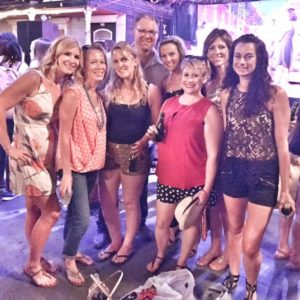 Wow!! What a whirlwind of a trip!!! I'm so grateful for the opportunity to go and to spend the trip with our amazing team full of family and close friends. Who wants to come next year???!!
So thankful to everyone who helped take care of our little ones while we were away!
I can't believe how many NSV's (non-scale victories, we talk a lot about these in my Health & Fitness Group) I've had even since last year's trip. Last year was the first time I flew in 4 years and this past year I've flown 4 x's. I was so nervous about leaving the girls last year and flying alone. I was also still struggling a lot with sleep and anxiety. The previous year my sleep and anxiety was even worse.
I'm so thankful for healing! I still didn't get the best sleep but it was soo much better than last year!!!
A couple of NSV's
1. I wasn't anxious about waking up at 5 am for the 6 am workout with Chris Downing (because I've already been waking up to get my workout in at home, practice helps lol)
2. As much as I love people, crowds can make me feel nervous and anxious but that didn't really bother me this year.
3. We got to spend some great quality time with our team and two years ago I used to get anxiety over social gatherings enough to make me not want to go to social gatherings. I love people, can you believe that parties and scheduling get-togethers gave me anxiety?
4. I LOVE to travel but after having the girls I really felt isolated and it made me feel like I couldn't do the adventurous things that I once did.
5. I'm grateful for this opportunity to coach! It's truly a blessing to help other people! If I didn't say "yes" to coaching two years ago I wouldn't have connected with all the people I know today! It's amazing how God has used this opportunity to grow, change and heal me. I'm so thankful for the tools He has given me.
Remember small choices today affect our future. It's the small changes that add up over time.
I'm really excited that our new Health & Fitness Challenge Group that starts this week and about completing the Shift Shop program with a group of amazing women! I think Chris Downing is one of my favorite super trainers. Have you heard of him? I LOVE how he's so positive, encouraging and motivating. It was great being able to his workout live!! Send me a PM and complete the application below to get started with us this week before it's too late!!
The eating plan guide gives you the meal plans for the program which is incredible!!! How simple is that?!?! If you don't have the All Access OnDemand Challenge Pack yet and want it, let me know and I'll get you set up!
Check  below for the application to get started this week…