I am super excited about our newest fitness program launch, Muscle Burns Fat #MBF! This launch couldn't have come at a better time. We are in the dog days of summer, motivation can be challenging and we want to rock our results without having to spend hours at the gym. Maybe you gym is closed or you aren't quite feeling comfortable going to the gym so working out at home has become your JAM! Whatever your WHY is, we have a program for you!
Beachbody has announced that it is adding a new program to the library of top of the line fitness and nutrition plans. Muscle Burns Fat #MBF is coming to Beachbody in July of 2020.
Super Trainer Megan Davies is going to kick your butt, sculpt your body, torch fat and is going to have fun doing it.
There are two programs that come in one. The first 3 weeks is #MBF and then the 2nd 3 weeks is #MBFA advanced so you can keep refining your results.
I cannot wait for 6 full weeks of new workouts! I am always looking for something new to keep me engaged and excited and this is it!
Here is a short video that gives you an overview of the program.
So, What is #MBF and #MBFA?
#MBF Muscle Burns Fat and #MBFA Muscle Burns Fat Advanced are two three-week programs that incorporate strength training and cardio to help you build muscle and burn fat, with full-body workouts that are set to the beat of the music!!! This program is a 7 days a week, with 25-45 minute workouts. Monday, Wednesday, Friday will be dedicated to strength training, Tuesday and Thursday are cardio based, Saturdays are for every minute on the minute, leaving Sunday as our recovery day.
With simple moves you'll learn quickly, you can let the tempo set your pace and drive your intensity for a total-body burn that will get you sweaty and spent.
"I created both programs to be done back-to-back," Megan explains. "Ideally, you'll start on a Monday, and commit to finishing 21 workouts. Crush the first three weeks, and you can move on to #mbfa, where I dial-up the intensity and really push your results to the next level — plus there's a whole new challenge called Megan Minutes. Your goal is to do a set number of reps in 1 minute using your heavy weights. Don't quit on me!"
Who is Megan Davies?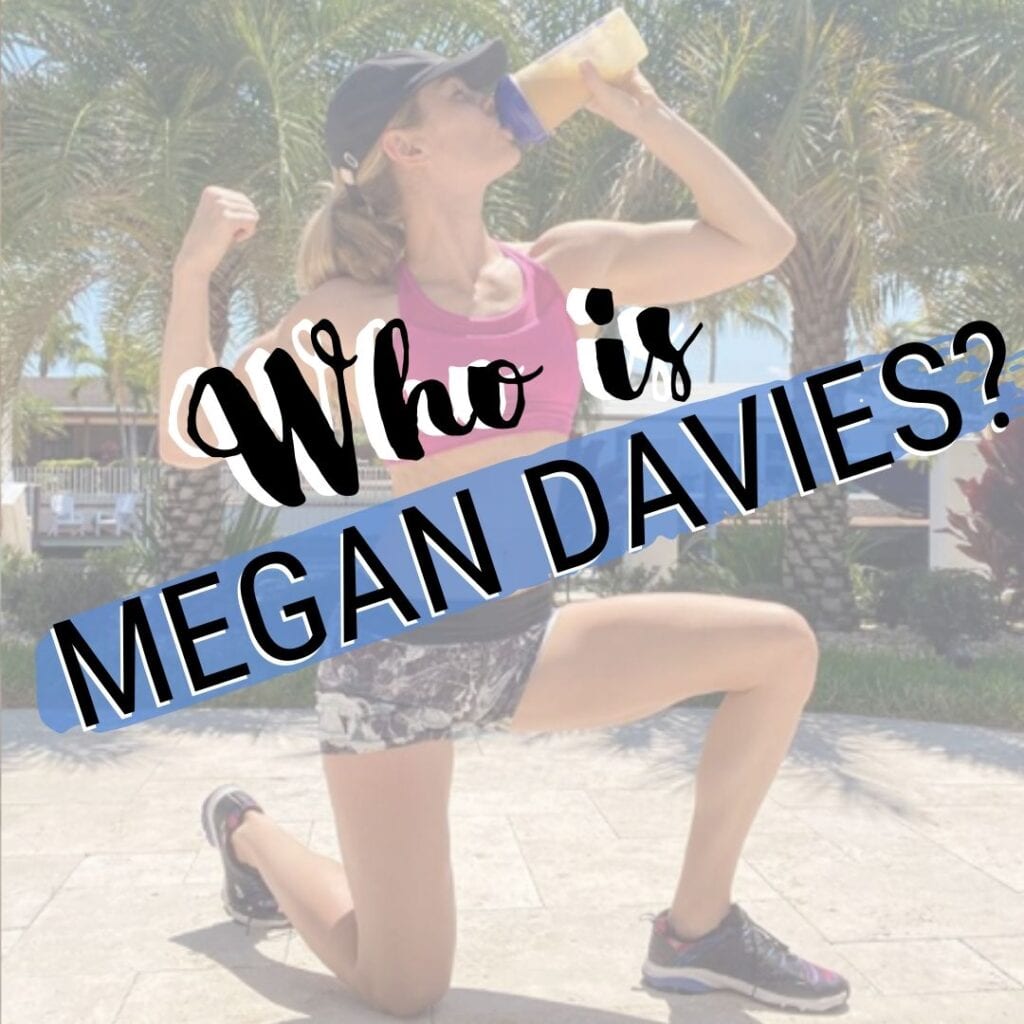 Super Trainer Megan Davies is the creator of #mbf – Muscle Burns Fat. Megan began her career as a personal trainer in college.
She then spent years training clients and expanding her skills, earning certifications from the NSCA and the Fitness Institute International, and opening her own gym. After winning the Beachbody fitness reality show, THE 20s (which you can watch on BOD!),
Megan was chosen as the next Beachbody Super Trainer to create her first program, Clean Week. I am so excited for you to get to know her – she is so upbeat and her attitude helps me power through my workouts!
Who is #MBF perfect for?
Anyone who wants to see R E A L progress in a short amount of time.
Anyone who wants to lose weight, get healthy, and create a better eating habit for themselves. Throughout this program, you will learn the ins and outs of nutrition, but how it goes hand in hand with your workouts.
Anyone who wants a program that is an easy start, but fun at the same time to make it not feel so much like " as workout".
Anyone who wants the most effective workouts that fit easily into their lifestyle!
When Can I Start?
June 29: #mbf free Sample Workout launch
July 7th: Coach Launch
July 20: #mbfa Sample workout
July 27th: Customer Launch
August 17th: #mbfa workouts start!!
What equipment is required?
Light, medium and heavy dumbbells
BOD Rope – our new weighted indoor jump rope!!!
What is the nutrition plan like?
All #mbf Challenge and Completion packs include BOTH UPF and 2B Mindset – our AMAZING premium nutrition plans – so we will be able to focus on the nutrition program that works best for you. This combination of nutrition and fitness is amazing!
What support will I have?
My support and accountability groups are so much fun and such an amazing way to stick to your plan, answer questions, stay motivated and connect with other people doing the same program! These groups are what have kept me on track – they hold me accountable and keep me motivated!
I am running an #MBF launch accountability and support group to walk you through the entire program from start to finish. I will help you set realistic health and fitness goals. I will be there to help you troubleshoot along the way + keep you accountable, inspired and moving towards your goals.
I am going to be sharing weekly sample meal plans and recipes to help you rock your results.
If you want to be a part of my private and exclusive launch group, please fill out the application below to get the details.
Each client is required to have me as their assigned coach.
Each client is required to purchase from me the #MBF challenge or completion pack to join the group.
Each client is encouraged to check in daily, track their programs through the BODgroup platform and follow the program from start to finish.
I am available to answer questions in the virtual support group daily + you will have 1:1 access to me as well for the duration of the program.
What are you waiting for? It's time to burn some fat!!!!
To get all the details, to make your purchase and to make me your official coach fill out the application below.
What packages are there?
For New Customers:
For Existing BOD Members:
I always recommend the Deluxe packages – especially with a program like this where you will be SORE. Having Recover will help you function the next day and allow you to give your next workout 100%. And Energize will give you the power to really crush your workout.
I am so excited to do this program with you! Make sure that you have filled out the form below to be kept up to date!
The sample workout is available and when you fill out this form below you will also get to test out the program + join my private exclusive Facebook VIP group!
Cannot wait to rock this with you!
Sample workout: https://vimeo.com/433541621